Cabo San Lucas
In Cabo San Lucas, you can take a tour of different charming places, enjoying the great nature that it contains, and make different stops, one of them is to go to the famous glass factory where one of the main crafts is made, you will find endless blown glass crafts. When we talk about visiting the Cabos, we talk about many places to which you have to go, in this part of the Baja you can do water activities, and visit beautiful beaches and restaurants where you will undoubtedly have a great culinary delight.
La Marina is another place which you have to know, with a combination of tranquility and fun you will find one of the most popular charms of Cabo San Lucas, at the pier you can take the emblematic tour to the Arc de Triomphe, to its beaches far from civilization and the enjoyment of a good meal with a beautiful view of the Sea of Cortez, the marina surrounds restaurants for all palates, from seafood, meat cuts, ice cream parlors, breweries and much more, it will be difficult for you to decide.
The activities in Cabo San Lucas do not end, there are events and places for all tastes and ages where you will have fun like never. At night you will find unique events and places such as bars, clubs, and restaurants. The nightlife is spectacular, there are bars and clubs of all kinds, if you are looking for something a little more rock, the JUNGLE bar is the option, with its live band and some excellent drinks. If what you want is to dance until dawn, some clubs offer electronic music throughout the night and until 2 am. During the day you will find walks to enjoy all the nature that this beautiful place offers, such as a visit to the dolphins or a camel ride.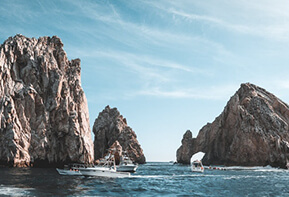 Coming to Los Cabos and not visiting the Arch, is not having come to Los Cabos. Can you imagine that during your vacation you can be in the so-called Finisterre, (the end of the earth); Without a doubt, it looks better than it sounds, and if you come to Los Cabos, you cannot miss seeing with your own eyes these enormous and majestic rocks that were created thousands of years ago and together they create enormous waves that are an unforgettable attraction for tourists and locals.
This is one must-see during your stay in Cabo San Lucas, there are several ways to appreciate it since from strategic points of the marina you can see it from afar, but if you want to be amazed by its imminent beauty, take one of the various tours that are offered at the piers of the marina, there are many prices since you can do it on a yacht or in a boat (panga) in which the captain in charge will tell you in more detail the history of the arch and somewhat another curious anecdote.
Besides its history, pleasant atmosphere, and tranquility, you can find other places to learn more about its beautiful beaches and vast nature. Los Cabos, one of the most visited places in the world, do not wait any longer and come to know it.